The Health Savings Account. A tax advantaged account attached to a special type of health plan.
The idea is simple.
The business of acquiring those accounts? That's another story.
Take a moment to review this picture and try to follow what's going on.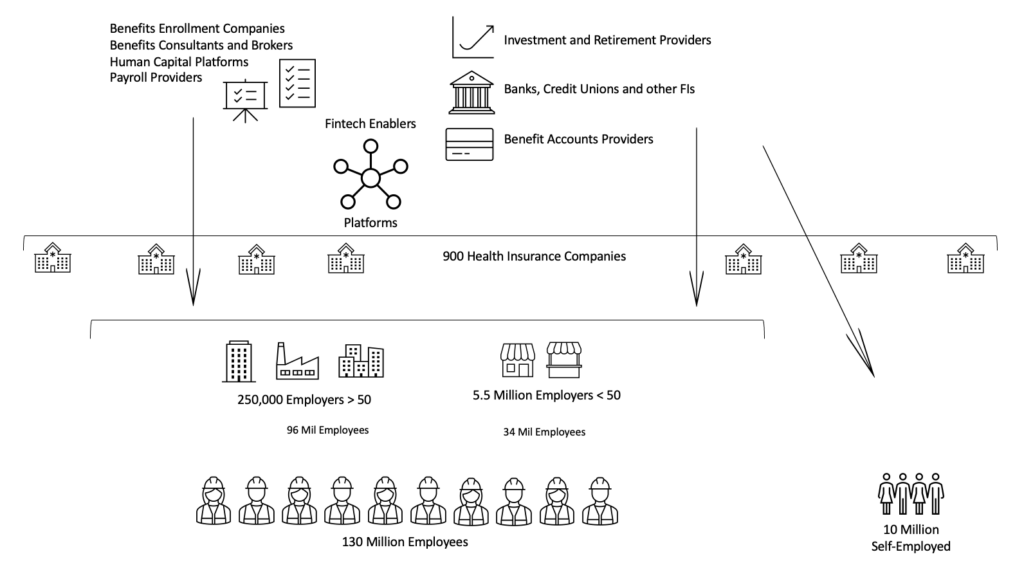 At the bottom are the ultimate HSA users. Employers offer HSAs in their benefit plans to the majority of the working population and often have their own account management portals. HSAs can also be offered directly to individuals who are self-employed, so that's quite a lot of people, too. A critical component of the HSA is an HSA-qualified health plan, so we also include the insurance companies. From there, as you move up the chain, we have the companies that help design benefits, facilitate enrollment, offer and administer benefits, as well as the technology providers that help provide services to everyone else in the chain.
We've made some important observations in our many years in this industry:
Individuals are less likely to want to pay for your product, and there are many free solutions in the market.
Yet, individuals' balances and utilization often generate a healthy portion, if not most of the revenue.
Employers often chose various service providers and pay the administrative fees on behalf of employees.
Sometimes health plans bundle in the administrative fees, some offer their own accounts, others partner.
Brokers and Consultants can influence the employer's decision, and some now offer their own account solutions.
Many other companies within the benefits delivery system now offer their own account solutions, competing with traditional players such as banks and third party administrators.
The latest trend is the entry of retirement and investment services providers trying to utilize the HSA as either a means of customer capture or as a defensive strategy to make their retirement products more "sticky."
If your organization exists in this space, careful consideration of a few strategic questions is necessary to make sure your goals and actions are aligned, so that you can achieve proper growth goals:
Who are you designing your product offering for?
Who buys your product? Who makes the decision to buy it, and who pays for it? What do they care about?
Who is the source of most of your revenue?
Who should you sell to, and through?
Which distribution channels will yield more sales with less time and effort? How can you compete there?
Where should you spend most of your time and money on?
Who are your competitors? (At this point, almost every type of organization from health insurance companies up, including them, can and do offer their own benefit account products)
How is your product significantly different from your competitors? What is the problem you can solve that they don't? Is that a problem that really matters to your buyers, decision makers and users?
These are very important questions to answer, and one must understand the impacts of each answer to their product delivery, distribution channels, growth expectations, P/L, etc.
Should you build the best product for individuals, and not invest as much in partner APIs? That could work, it may take you longer to grow and scale.
Should you focus on building partner channels and invest in that kind of distribution? That could work, but your revenue may be impacted if you don't have enough volume. Also, how aligned are the goals of your channel partners with yours?
Should you focus on selling direct to employers? That could work as well, but with the annual benefits cycle, lots of competitors, many influencers, and the fact you'll need to build a reputation, this can take a lot of time and effort (sometimes years).
So, what's the right strategy? What are the right answers?
There really is no one size fits all answer so you should take into consideration your company's short-term and long-term goals, your differentiators, your expertise and areas of excellence, and also requirements from investors, owners and shareholders. There is a lot of value in balanced approaches, with short, mid and long term goals and initiatives. I think it's important to use Balanced Scorecard Principles, to make sure the entire organization is aligned, and make sure that you are investing in and growing your teams as well.
When was the last time your organization went through a complete Strategic Planning Process? Hopefully you are spending adequate time on planning and researching the evolution of the industry.
If this picture has provoked some thoughts, and you would like to have a conversation, or you would like assistance with your strategic planning and/or product design, message me. I would love to hear your thoughts, and as always, am eager to assist you to work through these questions.